The 5-Minute Selling Workshop
Live with Alex Goldfayn on Nov 19, 2020 at 12 Noon Eastern Time
3 hours long, on Zoom
$397 until October 31 | $447 starting November 1
Is it possible to grow sales now? 
One thousand percent, yes!
Not only is it possible, it's even easier to grow sales during our current times, in a pandemic.
Why? Because your customers are doing the same thing you are doing: they are not going to meetings. They are not traveling. They are sitting by their phones, more reachable than they've ever been. Everybody is by their phone.
Nearly all of my client companies are having record years this year.
Countless salespeople who I work with are having record years. Some have doubled their sales from last year, and others have tripled their sales.
How do they do this?
By systematically communicating with their customers and prospects, who are more reachable today than they've ever been.
I'll teach everything you need to do at this half-day workshop. 
READY TO DOUBLE OR TRIPLE YOUR SALES?
This Live Workshop Is For You If:
You'd like to grow sales immediately — starting the day of the workshop. You'll leave with a plan to do so. 
You're used to meeting customers face-to-face and need to replace those activities — I'll tell you how. 
You want to end this awful year on a high note, with energy and opportunities. 
You're wondering how to replace customers who are spending less, or have gone away during the pandemic. 
You're already busy, and don't have much time to spend on growing sales. These activities take five minutes of proactive action per day. 
You'd like to connect with fellow salespeople successfully following my model of proactive communications. 
How the pandemic makes it easier than ever to grow sales.
A detailed but fast and simple system to grow your sales now.
We will cover (1) how to quickly plan your sales growth work; (2) how to quickly

 

do

 it; and (3) how to quickly track your work and success.
How to create a proactive call plan, and follow it weekly.
Detailed scripts and language for what to say to customers and prospects when you call them.
The most effective uses of Zoom and virtual meeting software. (Hint: Zoom should

 

not

 replace phone calls).
Specific techniques for sales growth, including:

The powerful did you know question and reverse did you know question.
How to follow up on quotes so that you dramatically increase your close rate.
How to ask for referrals and receive them two out of every three requests.
How The Day Will Be Structured: 
Our three hour workshop will be broken up in to three 30-minute teaching components, with each one followed by a breakout action and discussion session.

In the first breakout you will create your proactive call plan, and your weekly follow-up plan, and discuss it with your peers.

In the second breakout you will actually make a proactive call to a customer or prospect, allowing you to immediately apply your learning (which is the scientific key to implementing new learning for the long-term).

In the third breakout, you will commit to the specific actions you will implement going forward — starting on the day of the workshop.

Note: There is an optional 30-day follow-up meeting to discuss successes, results, questions and your plan going forward. 
This session will be led personally by Alex Goldfayn, author of the Wall Street Journal bestsellers 5-Minute Selling (published August 2020) and Selling Boldly (2018). He is the CEO of the Revenue Growth Consultancy, which grows the companies of his clients by an average of 10 to 20% annually. Over the years, within these organizations, more than 10,000 salespeople have successfully applied the concepts that will be covered in this workshop. Some of them have doubled and even tripled their personal sales. Want to do the same? Register Today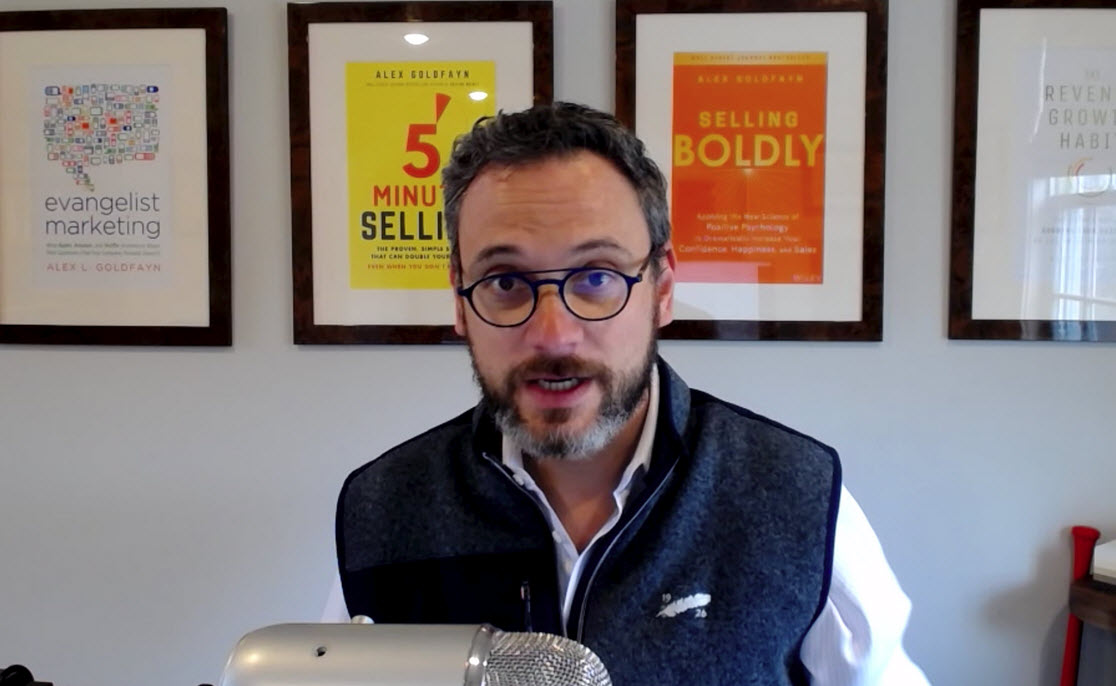 Recent Feedback from an All-Day Virtual Training With Alex Goldfayn:
As far as I'm concerned, that was one of the best webinars I have been to in a long time. The simple system is a tremendous value that can be implemented by all levels and types of business. The intentional action of calling customers or prospects, offering to help, tracking your calls, and sending a handwritten note will produce the result you desire. I feel Alex presented in such a way that you feel empowered and excited to put the steps to use immediately. Fantastic!
Was very useful and helped organize our thoughts, ideas and priorities. Putting the information on a form and setting up templates will drive accountability for us going forward.
The framework and structure in making this methodical. Alex is a great presenter – incredibly practical – love that we stayed away from "sales theory.
Great! Alex was real and down to earth, which was appreciated, his SIMPLE but clear and direct approach is exactly what my team needed. 
Your virtual workshop was awesome. I really enjoyed the time we had to work on our business! It's difficult to choose what I liked best, but if I had to choose, I would say the proactive call planner exercise. It helped me identify who I need to contact and it's very straight forward.
This was fantastic! Engaging, insightful, practical, relatable! I appreciated the structure, ability to brainstorm in groups, to have materials/resources to take with…..overall, it was one of the best virtual trainings I have attended (content wise and hearing you Alex!) great investment of my time! 
Tremendous job of making the webinar very practical and starting the implementation while at the webinar. All saw the benefits of the process. Great job!
ARE YOU READY TO START SEEING RESULTS?
ARE YOU READY TO START SEEING RESULTS?